Regional Ultra and Trail Run Calendar
Below are some select ultra and trail running events in the area that we are familiar with.
If a new race date has not been confirmed for the current year, the date from the previous year is listed in red. For corrections or additions to this calendar, please contact Stan (keeping in mind that this is intended to be a calendar of ultra and/or trail races).
For more complete national ultra and trail calendars we suggest visiting Ultrarunning Magazine or Trailrunner Magazine. For more information on running in the Arkansas area--especially marathon and shorter distance races, we suggest visiting ArkansasRunner.com or the Arkansas RRCA website.
<![if !vml]>

<![endif]>
<![if !vml]><![endif]>

Athens-Big Fork

Marathon & 17 mile

Big Fork, AR

Jan 5, 2013

Bandera Trail Run

100K, 50K, &25K

San Antonio, TX

Jan 12, 2013

Swampstomper

50K & 25K

Memphis, TN

Jan 20, 2013
<![if !vml]>

<![endif]>
White Rock Classic

50K

Crosses, AR

Feb 2, 2013

Sylamore Trail

50K & 25K

Allison, AR

Feb 16, 2013

Cross Timbers Trail Run

50 Mi, Mar, 1/2 Mar

Lake Texoma, TX

Feb 16, 2013
<![if !vml]>

<![endif]>
Carl Touchstone MS Trail

50 Mile, 50K, & 20K

Laurel, MS

March 2, 2013

Land Between The Lakes

50 Mi, 60K, Mar, & 23K

Grand Rivers, KY

March 9, 2013

Three Days of Syllamo

50K, 50 Mile, 20K Stages

Fifty-Six, AR

March 15-17, 2013

TATUR Six Hour

Snake Run

Tulsa, OK

March 17, 2013

Grasslands Runs

50 Mi, Marathon, Half-Mar

Decatur, TX

March 23, 2013

Big Rock Mystery Run

12-13 Miles

North Little Rock

March 30, 2013
<![if !vml]>

<![endif]>
Lake McMurtry Trail Run

50K & 25K

Stillwater, OK

April 6, 2013

Hoof It For Heifer 20K

Petit Jean State Park, AR

April 13, 2013

Ouachita Trail 50

50 Mile & 50K

Little Rock, AR

April 20, 2013
<![if !vml]>

<![endif]>
Strolling Jim

40 Mile

Wartrace, TN

May 5, 2012

Mount Magazine Fun Run

18 Miles

Paris, AR

May 11, 2013

Run Across America on Trail

May 30, 2012
<![if !vml]>

<![endif]>
Tail Twister Trail Races

Hobbs State Park

Rogers, AR

June 1, 2013

The Catsmacker

23 Miles (+/-)

Ouachita National Forest, AR

June 8, 2013
<![if !vml]>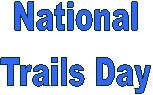 <![endif]>
Midnight Madness 50 Mile

Tulsa, OK

July 5, 2013

Full mOOn Run

50K and 25K

Lake Sylvia, AR

July 20, 2013
<![if !vml]>

<![endif]>
Mt. Nebo Trail Run
14 miles
Dardanelle, AR
Aug 24, 2013
<![if !vml]>

<![endif]>
Bartlett Park Ultras
50Mi, 40 Mi, 50K
Bartlett, TN
Sep 14, 2013
<![if !vml]>

<![endif]>
Arkansas Traveller

100 Mile

Perryville, AR

Oct 5, 2013

Pumpkin Holler 100

Tahlequah, OK

Oct 19, 2013

Cossatot River Trail Run

Half Marathon

Wickes, AR

Oct 20, 2012

Bass Pro Dogwood Canyon 50K/25K/15K

Lampe, MO

Oct 20, 2013

24 The Hard Way

6, 12, and 24 HR runs

Oklahoma City, OK

Oct 26, 2013

Styx n'Stones

30K & 15K Trail Run

Devil's Den State Park, AR

Oct 28, 2012
<![if !vml]>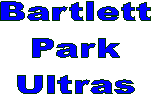 <![endif]>
Ozark Trail 100 Mile Endurance Run

Steelville, MO

Nov 2, 2013

Turkey & Taturs Trail Run

50K, 25K, & 10K

Tulsa, OK

Nov 4, 2012

Bona Dea 50K

Russellville, AR

Nov 10, 2012

Rockledge Rumble

50K, 25K, 15K

Grapevine, TX

Nov 9, 2013

Mother Road 100

Catoosa, OK

Last Run 11/13/2010

Sunset 6/12/24 Hour

Endurance Run

Benton, AR

Nov 23-24, 2012
<![if !vml]>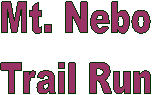 <![endif]>
<![if !vml]>

<![endif]>
Lake Ouachita
Vista Trail Run
Hot Springs, AR
Dec 8, 2012
[ Home ] [ Arkansas Traveller ] [ Ouachita Trail ]