HOME
AURA
UTS
RESULTS
GOOGLE MAP
2015 Slideshow
2016 Slideshow
2017 Slideshow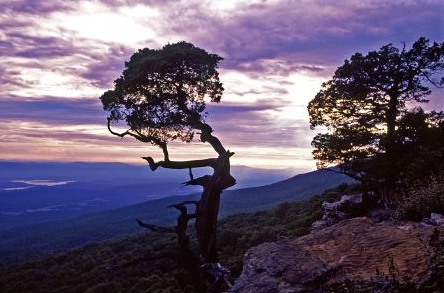 Welcome to the 8th
Mount Magazine Trail Run
18 miles +/-
8:00am - Saturday, May 12, 2018
Mount Magazine State Park, Paris AR
AURA Ultra Trail Series Event
Race Directors:
Paul Turner
&
Deb Baker
Mount Magazine State Park, a natural "island in the sky," looms over the Arkansas River Valley, and is home to Signal Hill, the highest point in the state, elevation 2,753 feet.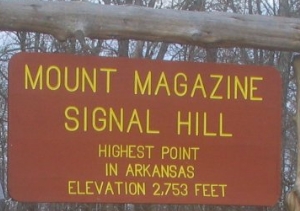 Magazine is home to magnificent bluffs which make for breathtaking scenery, provide spectacular views, and make it popular for hang gliders and climbers alike. Magazine also offers numerous trails for hiking atop the mountain and into the valley below. It's now time to enjoy those trails as runners.
Come join us for the 5th Mount Magazine Fun Run. We'll start just north of the visitor center (see map below), and hit almost every trail in the park, along with a portion of the Cove Lake Trail. The run will be approximately 18 miles, with a trip to the base of the mountain, via the Cove Lake Trail, and back to the top.
Parking is limited.
PLEASE
carpool where possible!
This is a fun run and there are no entry fees but please register so we know how many to prepare for. Contact
PT
if you have any questions. Food will be provided after the run. There will be a donation can to help cover expenses.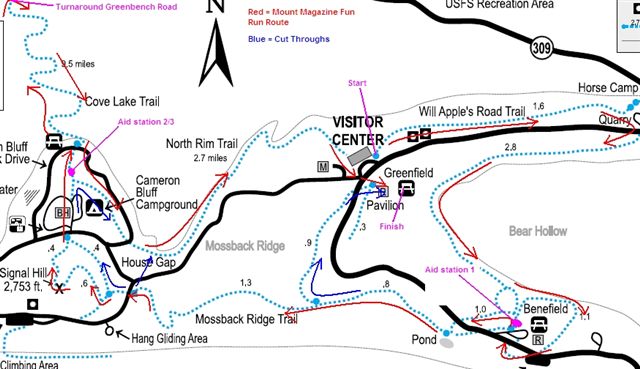 Also, check out the
GOOGLE MAP
for more details.
Directions:
Mount Magazine State Park is located on Scenic Highway 309 approximately 17 miles south of Paris; or from Danville, travel nine miles west on Highway 10 to Havana, then go 10 miles north on Scenic Highway 309. Please arrive early enough to check in at Greenfield Pavilion - across the highway from the visitor center.
Many thanks to Mt Magazine State Park, and the Forest Service (Mt Magazine RD) for helping to make this possible.
For lodging and camping information at Magazine go to
http://www.mountmagazinestatepark.com/
For more information on the race please contact
PT
Answers to posted questions...
Adult Beverages - If you want to bring your own adult beverages, that is ok; however, please be discrete!
There are 2 aid-stations, the first is approx 5.5 miles in and will be water only, the second is approx 10.5 miles in, it will have water/gatorade/snacks.
There is not time limit, and if you decide to drop down to 12 versus 18 miles, you can do that at the 2nd aid-station.
If you bring food to share, that would be awesome. I will have a couple ice chests there, but limited room in them. If you have an ice chest you are more than welcome to leave it over with the others. There will be plenty of room in the pavilion.
VOLUNTEERS are always welcome, if you would like to volunteer, please send me a private message, and we can work out the arrangements. Thanks guys, looking forward to seeing you on top of Arkansas in a couple weeks!!!
REGISTRATION IS REQUIRED No race day sign-up.
HOME
AURA
UTS
RESULTS
GOOGLE MAP