Ken Childress and Brian Hoover Survive the Mystic River 20 Mile Run.
<![if !vml]>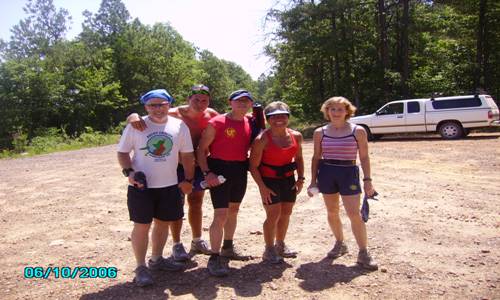 <![endif]>
(L-R Ken Childress, Brian Hoover, Pete Ireland, Patty Groth, and Carrie DuPriest.)
Ken and Brian left Tulsa at 2am bound for the Little Rock, Arkansas area, more specifically Lake Sylvia. This is where the Arkansas Traveler 100 Mile Race will be held. This was a small club run put on by AURA (Arkansas Ultra Runners Association). We got to run with some of the nicest and most experienced ultra runners named Patty Groth, Carrie DuPriest, and Pete Ireland. Patty works as a personal trainer and has a very fit and muscular physique to prove it. Carrie home schools her children and stays very busy. Pete has done just about difficult trail race known to man, including the grand-daddy of them all. The Barkley Marathons. . All three of these awesome individual have completed the Leadville 100, the Kettle Moraine 100K, and, many Arkansas Travelers. Do I even need to mention that they are very fast and strong.
Before the race we got to meet Charlie and Lou Peyton. Both of them are legends in the sport of ultra running. Not just in Arkansas, but nationwide. They were the ones who invented the Arkansas Traveler. Charlie explained the fun run course and then we were off. We started at 7am and Ken, Pete, Patty, Carrie and I all ran together for the whole 20 miles. We were talking about past races when all of a suddenly Patty stopped dead in her tracks. There was a large snake in the middle of the jeep road and did not look like he wanted to move. Pete nudged it out of the way and we continued on. Carrie set the pace for most of the run and we were trying to keep up with her when we spotted a stray dog in the middle of the road. We were in the middle of nowhere so we were very concerned for this injured canine. We gave it some water and he had a tag so Patty memorized the name and phone # and later called the owner.
Ken and I were amazed by the beauty of the Arkansas "hills". We would climb steep ascents for over a mile before we repeat the distance for the downhills. We finished just as the heat was really becoming a factor. After the race we got to meet Stan and Chrissy Ferguson, both of these two are "National Class" trail runners who put the rest of us mere mortals to shame. They were extremely cool and hilarious. We even got to hear the story of how the name of another of their club races, "The Catsmacker" came to be named. It is a hilarious story. Email me and I will give ya the details. After the race Charlie Peyton and his wife Lou, were making pancakes for everyone one and we all relaxed on folding chairs and told stories. How could you ask for a better morning. We got to meet some good friends, run in the breathtaking Ouchita Mountains, and do what we love, run trails.
[ Home ] [ Arkansas Traveller ] [ Ouachita Trail ] [ Events Calendar ] [ Results ]