Runner Information Packet - Directions
Directions to Race site
From Interstate 430 at Highway 10 in west Little Rock, go West on Hwy 10/Cantrell Rd. Stay on Hwy 10 for approximately 2.7 miles. Make a Right turn onto Pinnacle Valley Rd at the stoplight. (This turn is soon after a Sonic Drive-In; look for a brown sign indicating Maumelle Park.) Pinnacle Valley Rd makes a left turn about 1.5 miles from Hwy 10 (watch again for a brown Maumelle Park sign). Follow for less than a mile, to get to Maumelle Park. Pavilion #8 is on the right, just BEFORE you enter the park.
See also course map on
GOOGLE MAPS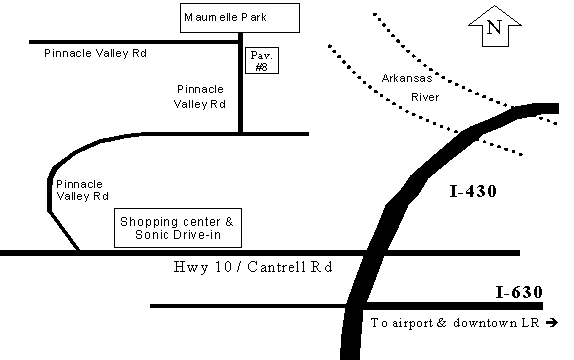 Crew Directions
Crews are only allowed to aid their runner(s) at the start/finish, the East Pinnacle parking lot, West Summit Trailhead, Northshore, and the Highway 10 turnaround (for 50-mile only).
East Pinnacle parking lot
This is off of Pinnacle Valley Road, approximately four miles west of Maumelle Park. Going west on Pinnacle Valley Rd, it will be immediately after you cross railroad tracks. Please do not park on the grass or in "No Parking" areas. Overflow parking is available further west of the main parking lot on the right side of Pinnacle Valley Road.
Northshore
This is off of Highway 300, just west of Roland. It is not marked. This is approximately half a mile west of Roland Cut-off road at Hwy 300. There is a small parking area to the left, as the highway turns right. Watch for vehicles.
Hwy 10 park (50 Mile turnaround)
The roadside park is approximately 15 miles west on Highway 10 from Pinnacle Valley Road (or about 11 miles west on Hwy 10 from Highway 300), just before a bridge over Lake Maumelle. It is before the Hwy 113 intersection.