Runner Information Packet - Introduction
Greetings from the race director:
Thomas Chapin
Welcome to the 28th annual Arkansas Traveller 100! The many volunteers that assist with the race are looking forward to helping you along to a fabulous weekend of fun and excitement, and we are confident that by the end you will join the countless previous Travellers who rate our aid stations as the Best in all of Ultrarunning. Thank you very much for your interest and participation in this yearís event and rememberóitís all about Good Time Running!
Acknowledgements
Race Committee:
Thomas Chapin, Chrissy and Stan Ferguson, Kim Fischer, Linda House, PoDog Vogler, Jim Acebedo, Mark Barnhard.
Special Thanks to the following:
Central Arkansas Radio Emergency Network (Communications), Central Arkansas Water, Williams Junction Volunteer Fire Department, and the United States Forest Service
Contributors:
Baptist Health, Central Arkansas Water
Race Location
The start, finish, and race festivities will be at historic Camp Ouachita, near Williams Junction.
Google Maps
Driving Directions
to race start.
Getting there: You should be able to find Williams Junction, AR on most maps. It is approximately 30 miles west of Little Rock on Hwy 10, or 20 miles south or Morrilton on Hwy 9. You will see signs as you enter the community that you are in Harmony. From Williams Junction, go north on Hwy 10/9 for a mile and a half, then take Hwy 324 and follow for about three miles. If an address is needed for GPS, it is 618 Hwy 324 South, Perryville, AR 72126
Important information for parking near Camp Ouachita on race weekend:
Runners and crews must park along Hwy 324 on the WEST SIDE only. This is the side of the road opposite Camp Ouachita. Parking on one side is a requirement of the US Forest Service, and they will write tickets to violoators.
Other Camp Ouachita guidelines:
Please note that no dogs are allowed on the grounds at Camp Ouachita. Also, no camping is allowed on the grounds at Camp Ouachita. The campground at Lake Sylvia will be open on race weekend. It is about one mile from Camp Ouachita.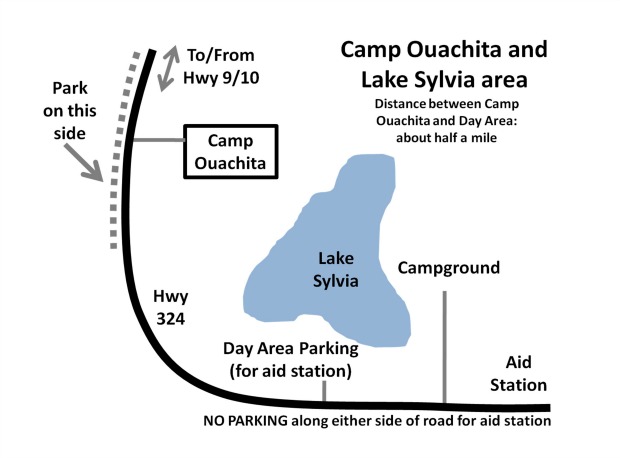 Schedule
Friday - October 5th
| | |
| --- | --- |
| Noon - 3:15 pm | Prerace packet pickup and weigh-in |
| 3:30 pm | Welcome; Runners and crew briefing (Mandatory) |
| 4:30 pm | Spaghetti Dinner |
Saturday - October 6th
| | |
| --- | --- |
| 5:30 am | All runners check in at race headquarters |
| 5:50 am | Begin assembling at starting line |
| 6:00 am | (Prompt) Race Start! |
Sunday - October 7th
| | |
| --- | --- |
| 7-ish to noon | Pancake Breakfast |
| 12:00 noon | Race ends |
| 12:30 pm | Race awards |